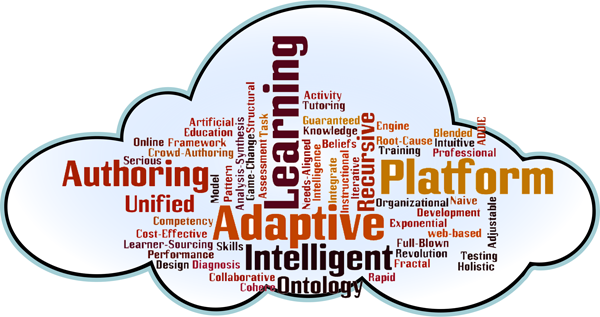 CLARITY is a general (content-agnostic) cloud/AI-based software Platform for
automated visual Rapid-to-Serious Design of Clarified Well-Structured Adaptive Content with embedded Quality Assurance
automatic generating of the Most Effective, Dynamically Adaptive, Gamified, Competence-Based, Recursive, Personalized, Deep Learning with Guaranteed Success assured by Adaptive Testing, Root-Cause Diagnosing and Remediation of learning problems from their roots

automated improving of the Adaptive Content by educators and learners based upon their own experience and Big Data analysis.
Users can access our CLARITY directly from our LMS or from their own LMS seamlessly connected with our CLARITY via Learning Tools Interoperability spec.

Authors, Learners, Educators and Organizations, the CLARITY will change your live for the better with:
a general Activity Framework to clarify, simplify, structure and assure quality of Authoring and Learning of any specific Content & Competencies & Performance of any complexity,
an Authoring Tool for Rapid-to-Serious visual authoring of any specific blended Content & Competencies & Performance by filling in the general Activity Framework and automated Quality Assurance,
a Learner Dynamic Profile to represent current Competence/Proficiency, constant Preferences and variable Parameters of each particular Learner for unlimited adaptivity and
a general, yet customizable AI Tutoring Engine for monitoring Learner's Performance, updating the Learner Dynamic Profile, and providing the Learner with the most effective, competence-based, adaptive, precisely focused, personalized educational interventions (and/or recommendations). It supports learning on-your-own, provides intelligent coaching and tutoring.
The CLARITY platform boosts reliable learning of clarified well-structured Content by novice learners under supervision of educators, generates massive success and lets the fast growing crowd of successful learners develop their own higher level (analytic and creative) skills by improving existing Content and rapid authoring of new clarified well-structured Content (reviewed by peers/experts/teachers). Such a "learner-sourcing" creates an Exponential snowball-like growth of diverse Content on learners' own language for really adaptive learning.
Thus, as a byproduct of learning high-level skills, the clarified well-structured Adaptive Content GROWS EXPONENTIALLY to match the EXPONENTIAL GROWTH of Human Experience. This is actually the only solution of the Education crisis.

CLARITY makes The Every Student Succeeds Act, ASSA, come true.