I am reposting this excellent work by joshbersin to provide you with the priceless modern vision of digital enterprise learning and emphasize its main future points, which are Intelligent Learning and Personalization. Enjoy!
---
Over the last few months I've had a series of meetings with Chief Learning Officers, talent management leaders, and vendors of next generation learning tools. My goal has been simple: try to make sense of the new corporate learning landscape, which for want of a better word, we can now call "Digital Learning." In this article I'd like to share ten things to think about, with the goal of helping L&D professionals, HR leaders, and business leaders understand how the world of corporate learning has changed.
First, as a preview, let me explain why this topic is so important. The corporate L&D industry is over $140 billion in size, and it crosses over into the $300 billion marketplace for college degrees, professional development, and secondary education around the world. Thanks to the emergence of digital content and tools, all these programs are being reinvented for digital access, enabling businesses and employees to learn like never before.
Second, this topic is now the #2 topic on the minds of CEO and HR leaders. The 2017 Deloitte Human Capital Trends research discovered that 83% of companies rate this issue important and 54% rate it urgent up 11% from last year. In this world of automation, business transformation, and continued obsolescence of skills, companies are realizing that delivering on a compelling, digital learning experience is critical to business success.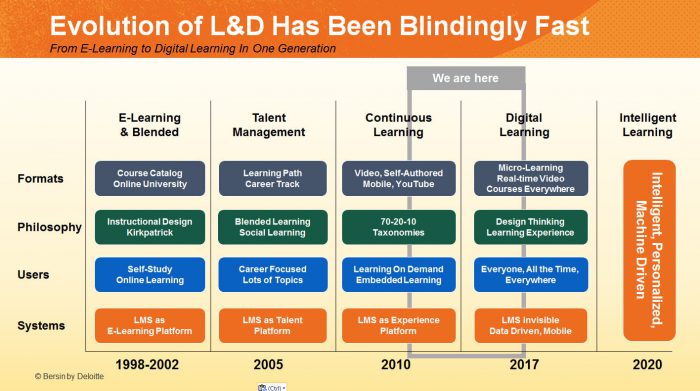 Continue reading here.